Photos: Bent Viscaal PR / Trident
Formula 3 race winner Bent Viscaal (21) is promoted to Formula 2. The Dutch driver will make his debut in the Formula 1 feeder series within four weeks from now. Viscaal will join the Italian team Trident, the racing team for which he recently put in his first test kilometers in a Formula 2 car.
After an exciting Formula 3 season, in which Viscaal achieved a beautiful victory during the second race weekend at Silverstone and made a name for itself at the Hungaroring through a very strong performance in the rain, the last step to the Formula 1 was the only right option. The Trident team offered Viscaal a test day in Bahrain, one where the youngster from Albergen (The Netherlands) left a fantastic impression.
"This is the perfect team to take the step towards Formula 2."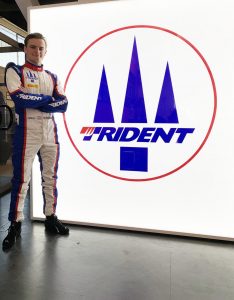 Both parties came to an agreement thanks to the good cooperation, so Viscaal can once again take a seat in Trident's Formula 2 car. "It is my pleasure to finally tell you what I am going to do next year," says Viscaal with satisfaction. "During the post-season test in Bahrain, the Trident team members and I noticed that we got on well. In my opinion, this is the perfect team to take the step towards Formula 2. I hope we can keep the line up from mid-December during the upcoming race weekend in Bahrain."
For Viscaal, this was the right time to switch to Formula 2. The Dutchman has completed two full seasons in Formula 3, a class in which he made his debut after very successful seasons in the Spanish Formula 3, the Euro Formula Open and the Spanish Formula 4.
"After winning the races in 2020, one of which was taken away from me by a time penalty, I knew for myself that I was ready for the next step. As a driver I strive to develop continuously. I am grateful to Trident for this opportunity and cannot wait for the season to start in Bahrain!" Viscaal will jump into Trident's car for the pre-season test on Monday March 8th. The Bahrain International Circuit will host 3 test days before the teams and drivers prepare for the opening weekend.
The 2021 Formula 2 season starts on March 27, at the Bahrain International Circuit. Two sprint races will be held on that Saturday. The first F2 feature race of this year is scheduled for Sunday 28 March.