At the press conference, hosted by local Audi dealer Van den Udenhout, the Formula-Eindhoven foundation announced their plans to bring Formula E to the Dutch city Eindhoven. Spokesperson and initiator of the idea, Peter-Paul Laumans told the attending press that he started this idea a while ago, gaining more traction when he spoke to Formula E driver Robin Frijns last year at the Paris E-prix.
Laumans created a foundation, backed by local partners and governments, to make sure they could offer a competing bid. It is no secret that more cities are aiming for a spot on the Formula E calendar, as electric driving and racing is becoming more popular. In The Netherlands there was interest for Formula E by cities of Amsterdam and Rotterdam, but they have both backed out and will not do a serous bid anytime soon.
You might have heard of Amsterdam, maybe even Rotterdam, but Eindhoven? Why should the Formula E decide to race in Eindhoven of all places in the world. "Well actually this is a perfect fit" Laumans tells us. "Eindhoven is the city where many innovations in the world come from, think about the lightbulb of Philips for starters, but also there are chips in almost every car in the world from the Eindhoven based chip manufacturer NXP Semiconductors. So for me it is a no-brainer that Eindhoven is the perfect city to host the 'Dutch E-prix'."
"Formula E in Eindhoven is a no-brainer really"
Peter-Paul Laumans – Initiator Formula-Eindhoven
"We are aiming for a spot on the calendar in the 2021/2022 season, so we are preparing the bid no together with our launching partners." Laumans continues. "It is an extremely prestigious event and we want to put Eindhoven on the map worldwide with this event."
As we know from the bid for the Formula 1 at Zandvoort, it costs money to host a prestigious sport event. Getting Formula E to Eindhoven will cost about 15-20 million euros which, according to the feasibility and economic study conducted by Brabant Sport, should be earned back by both direct as indirect revenue generated from the event. Besides, this race can be used to make electric driving for consumers even more attractive and can act as a platform for the government to push electric driving, given the government's mission to only sell 100% electrical vehicles from 2030 on.
Sounds great, but what will driving through the streets of Eindhoven will be like, are there any thoughts about a track already? Laumans has his ideas about this: "Every night I dream about different tracks and possibilities and sometimes I drive to the locations to see if it could work for a Formula E race. I have about 3 to 4 different track layouts in my head, think of how cool it will be to drive through the the PSV Soccer stadium for instance." A race through the stadium would be cool, but we will already see that in London this year, where Formula E will race through the ExCel stadium.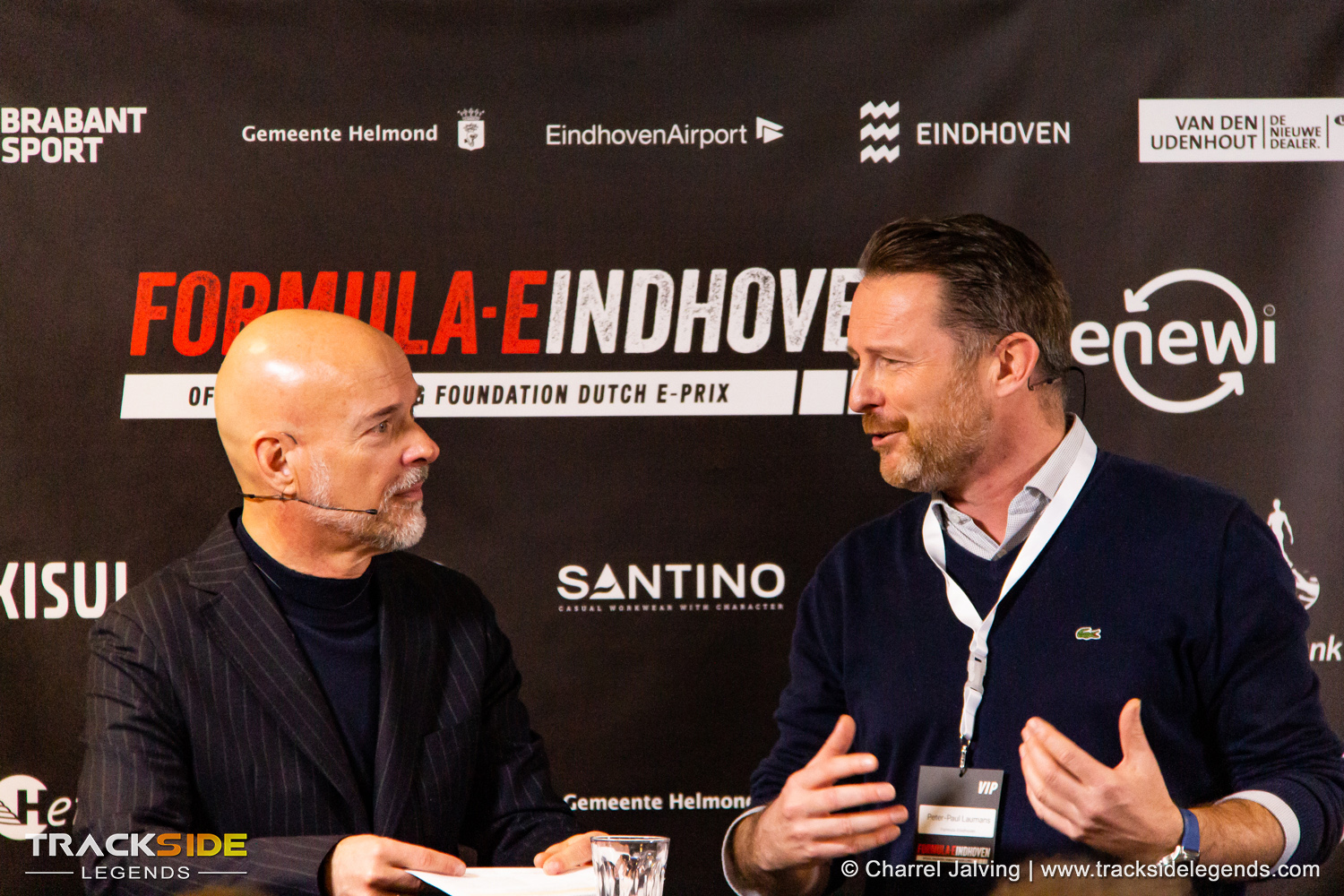 "What will be unique in our bid is that we opt for the first ever Formula E night race, which again is a perfect match given the fact that former lightbulb giant Philips was founded in this city."
When Robin was asked how difficult it is to drive a Formula E car, especially in the dark he answered: A Formula E car is pretty different to drive compared to other racing series. You have to think about the regeneration of your battery and can use this re-gen to brake and at the same time gain a bit of extra energy. Driving in the dark will not make a lot of difference for me, driving wise. Of course you'll have a colder track, so tire temperature management will be a thing to consider, but the track will be properly lit so as drivers we don't notice it that much, just like Formula 1 in Singapore."
The Formula E in Eindhoven will be a nice addition to the sporting events in The Netherlands. The next step for Formula-Eindhoven will be to submit their bid at the Formula E organisation in London and they will evaluate this possible addition to their calendar for next season, we'll be following the process closely!
Check out our article and gallery of the Formula E Paris E-prix last year:
About Formula E
Formula E is one of the fastest growing new sports competitions. The Motorsport class for electrically powered racing cars originated in 2010. The races take place in cities all over the world. Technological development and sustainability are the main pillars of the sport. Formula E is therefore constantly looking for new solutions and improvements in the field of electric mobility. Where the Formula 1 attracts a mixed audience, remarkably many young people follow Formula E. They become, among other things, attracted by the interactive nature of the sport (or gamification): the public can vote with their smartphones for the favorite driver and give them an extra boost in the race, called 'Fan Boost'.