If you watch motorsports regularly, you must have heard about this legendary race. Maybe you've even watched it a couple of times. There are die hards who watch the entire race and stay up all night to see how their favourite team and drivers are doing, while others just really wanna see the start, some highlights in between and the finish.
Real motorsport fans know this is the pinnacle of motorsports, as we can all agree Formula One no longer is after the sad and boring races up till Le Castellet, though Max mad up for it in Austria big time. Anyhow, quickly back to Le Mans, an exhausting 24 hour battle for both man and machine. Where the top drivers in motorsports compete in cars that are build to precisely last this extremely long time span. Most other races don't even last for more than 1,5 to 2 hours: where this race exceeds this by 12 times. Add a rolling start to the mix and you have a very, very interesting race format. Not only for drivers and teams, but also for fans, marshalls and other employees making this event happen.
The 24 Hour of Le Mans is part of the FIA World Endurance Championship (WEC) and is the final race of the Super Season. It's called a Super Season for a reason, this season was stretched out over a 14 month period of time. This means besides the normal races on the calendar, the championship raced twice at both Spa-Francorchamps and Le Mans. So this was the final race of the Super Season at Le Mans, making it even more special for the contestants.
The Dutchies at Le Mans

LMP1

In the top class we have Renger van der Zande driving in his DragonSpeed LMP1 car with a special retro Gulf livery. He competes together with his teammates Hendrik Hedman and Ben Hanley.

LMP2

This is the series below the LMP1, the cars look rather similar but they use a predefined chassis from one of the suppliers (Oreca, Ligier, Dallara or Multimatic/Riley), unlike the LMP1 teams that develop and build the cars themselves and are also allowed to use hybrid technology.

The most famous LMP2 team in The Netherlands is, of course, Racing Team Nederland. This Jumbo sponsored team drives with 2 professional drivers (Giedo van der Garde and Nyck de Vries) and gentleman driver (Frits van Eerd), who also happens to be the CEO of Jumbo Supermarkten. Nyck de Vries still races in Formula 2 and Giedo van der Garde mostly acts as (KNAF) coach to talented young drivers.

After a difficult race, with a crash of Nyck de Vries due to a suspension failure, the team managed to fix the car in time to finish the race. Unfortunately not in a good position, but they made it to the finish line.

Then we have Job van Uitert, an experienced young man who drives for the G-drive team together with Jean-Eric Vergne and Roman Rusinov. 

Last but not least there is Jackie Chan DC Racing, with a famous team owner and name giver, this team sounds very familiar to most. The Dutchmen driving for this team is Ho-Pin Tung, who has a long racing career and a lot of experience in various motorsports series.

GTE-PRO

In the GTE-PRO class, as the name suggests, these are professional drivers competing in GT cars. There are cars competing from different manufacturers, but there are rules (like extra weights) to create a level playing field. Nicky Catsburg drives the massive BMW M8 GTE together with Martin Tomczyk and Philipp Eng. Names you might have heard of in DTM.

GTE-AM

Where the former class was the PRO version, this is the Amateur version, meaning that at least one of the drivers should be an amateur driver. In the Keating Motorsports team the team owner Ben Keating is the amateur.

This team happens to win in their class. Ben Keating on the podium: "I sell Ford automobiles to pay for my racing". So for him, like many other contestants, Le Mans and endurance racing is a way of marketing.

Jeroen Bleekemolen is not so much of an amateur, with experience in a lot of different racing series he is a real professional and helped in getting the team to the podium. Unfortunately, the win was taken from the team after they were disqualified due to a pitstop that was shorter than regulated and an anomaly in the size of the gas tank.

No gifts at Le Mans..

Road to Le Mans

Then there is the Road to Le Mans, in which drivers can compete in a 1 hour race in Le Mans type cars, so they can get a feeling of the track and how it would be to compete in this series. Frits van Eerd, owner of Racing Team Nederland, lend his LMP3 car to TV host Rob Kamphues to make his dream come true to drive at Le Mans.
We want to know what motivates the drivers, the team members, the marshalls and the fans to come to this race and what makes this event so magical. We did some investigation and tried to describe what it is that makes this race so special for each one of them from different points of view.
I am Rob Kamphues, TV host for all F1 shows in the Netherlands, and a big Motorsports fan.

In my spare time I'm also a so called 'gentleman driver'. The road to Le Mans (not the 24 hours) is about the most adventurous thing I have ever done, 300 kmph on a track where you have hardly no time to practice and on top of that fierce competition from the drivers from all over of the world.

When I saw the movie Le mans with Steve McQueen I knew I wanted to be like him. I am halfway there and that is probably how far as I will ever get 😂.
The Drivers, real daredevils and athletes.
Sure, all that racing at high speeds brings a certain level of courage and fearlessness. Though the safety of drivers is highly valued, it still takes some balls to competitively race wheel to wheel at high speeds. Who ever drove even just in Go Karts, knows driving is very exhausting and takes a lot of stamina and muscle strength. You suddenly use/feel muscles you have never used before and come out of the kart completely ruined after only 2 or 3 heats. Now imagine what it is like to drive a real race car at full speed for 1,5 to 2 hours, constantly on the limit. Did you get it? Yeah? Now.. keep that feeling in mind and think how about it would feel to race for 24 hours.
"I sell Ford automobiles to pay for my racing"
– Ben Keating, Le Mans GT-PRO driver
Of course, endurance racing is a team effort and you drive with a team of 3 drivers in total. This means you get about 8 hours of track time each during the race. A complete working day of competing against the best athletes in the world. Finishing at Le Mans separates you as a man from the boys.
The Le Mans mechanic. A mix of a genius and a marathoner.
Real heroes, is what they are often called. By drivers, by other team members and by fans. These guys and girls really make this sport complete. The mechanics are the top breed of mechanics you can find and besides having all the technical knowledge of the cars, they are able to perform their arts for more than 24 consecutive hours. They are there when their driver needs them. To perform the pit stop as quickly as possible. To help with the drivers switch a few times a race. And most importantly, they are always there when a driver screws up himself or the material lets the team down and a collision or crash can't be avoided.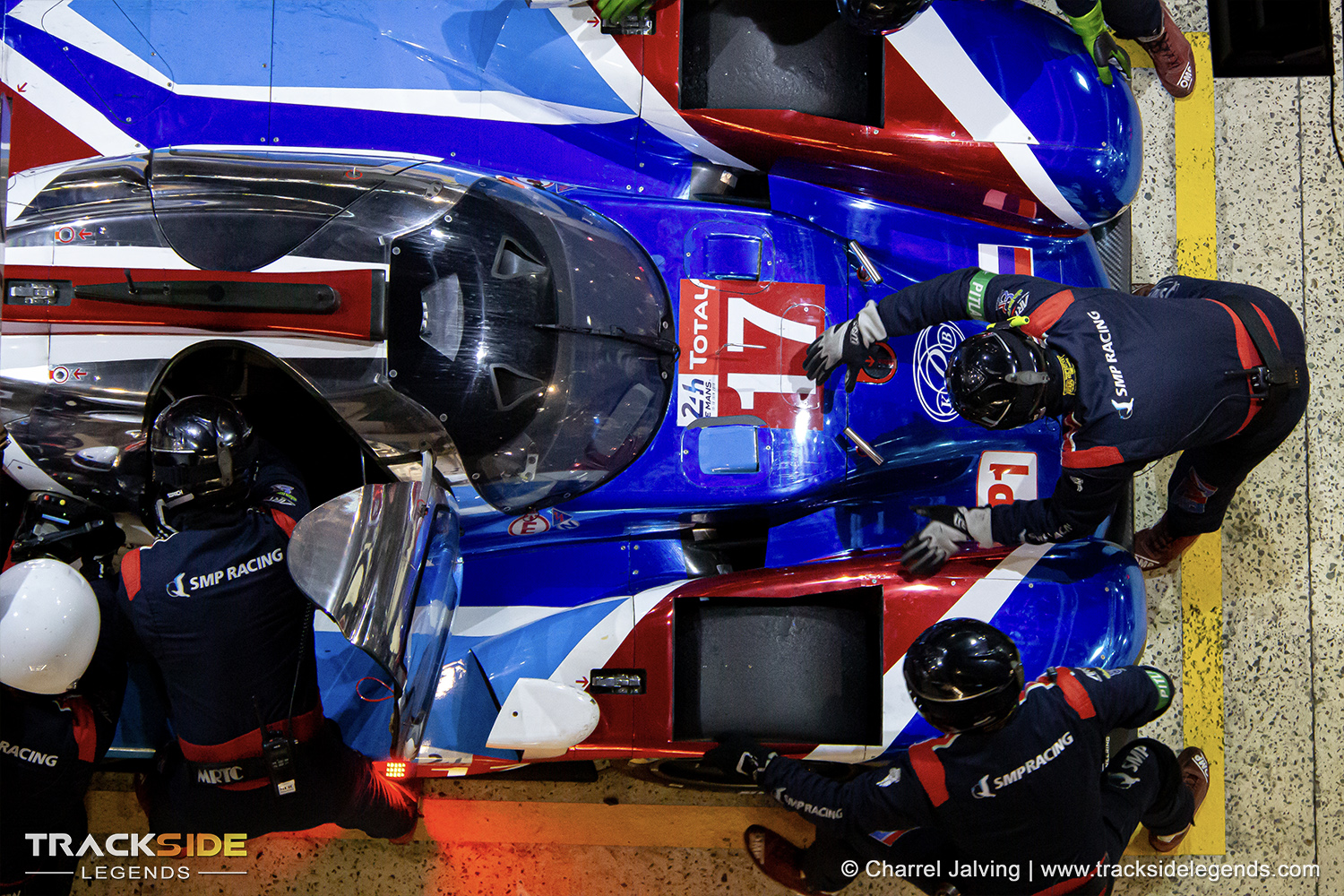 Sometimes a car comes in, looking like a cripple, with only two wheels still on. Fans talk to each other and say things like 'Well, that's the end of their race'. The mechanics see a whole different thing, they see a challenge. This is the reason they came to Le Mans. Of course, it is better to have no problems, but now they suddenly become a much bigger part of the race and are the only hope that the team will even finish. When the car comes in the damage is inspected even better, with a first evaluation done on the tv screens, and they immediately start working. The quicker they work, the more chance there is to a good result. The mechanics are suddenly the only hope for the team, what a feeling if they can fix the car in time and tell the driver to go out and push again!
Marshalls, media and employees.
The whole event, which attracts more than 250.000 people over the weekend, is being steered in the right direction by a lot of supporting personnel. From the FIA delegates to the photographers and journalists reporting for their country and publication. There are few people who just see this as work, if you do this kind of work and put in the effort, you are most likely a real petrol head who loves his or her job. All these people are also making a lot of overtime to make sure they bring in the best work they can. Just as for the drivers and the teams, for these men and woman it is also an exhausting race against the clock. Making sure everything is on time, work hard so you get the right pictures and your article is delivered in time for your client.
"It is a way of life. There are races…and Le Mans."
– Inge Moreau Horsten, Communications Le Mans
My name is Inge Moreau Horsten, I am Dutch but live in Le Mans since a long time. I have worked for over 13 years at the Circuit des 24 Heures du Mans. I started selling T-shirt's but ended up in the communication department. As a native Dutch I speak more languages than most, that was helpful. Tourism is originally my background. And once you are in the world of motorsports…it is difficult to get out, the bug has bitten! My main role was the accreditation of the national and international press, journalists and photographers. And this for all the events that take place in Le Mans. Cars, motorbikes, trucks, karting…

in 2017 I had this super opportunity to travel the world with the WEC (World Endurance Championship). I was the secretary of the Stewards during the Race Control. Great to discover other tracks in Japan, China, Mexico, Austin etc.

Le Mans is unique. By the fact it takes 3 weeks, from the Test Day to the end of the Race on Sunday 3 o'clock. Scrutineering, the Driver's Parade, there are a lot of activities in and around Le Mans. So many people plenty of dedicated fans, it is the greatest race in the world! And difficult to explain how to get so passionately involved. It is a way of life. There are races…and there is Le Mans.
But what do you think of the marshalls making sure the drivers are safe if their car breaks down or when they have an encounter with the barriers, making sure everyone sees the right flag in time. The blue flag is a popular flag at Le Mans, which you can imagine if you think of the 61 cars in different classes racing on the same track all 24 hours long. The marshalls have to be completely focussed and in a way have a big role in the development of the race. They can not forget to wave a blue flag for instance or this will immediately impact the drivers on track.
They love to do this, to have been a marshall at Le Mans is very special. As the Le Mans track is very long (13,6 km and 21 corners), and the race continues for 24 hours (not even counting the support races in the morning), there are a lot of marshalls needed on track. They come from all over Europe, the marshall in the Indianapolis corner for instance, are mostly from the Netherlands. They guard this part of the track as if it was a part of their home track in Zandvoort or Assen.
You see the dedication and the respect they have for the drivers. Vice versa this is also the case, you see this when the drivers make their exit round and pay respect by waving, grabbing flags or driving under flags which the marshalls put up.
And last, but not least. The Le Mans fans, true petrolheads.
And then there are the fans. If it wasn't for them coming in enormous numbers to the track in France each year, there wouldn't even be a race. As mentioned earlier, this year there were over 250.000 people attending the races over the weekend. Most of them staying at one of the camping grounds directly surrounding the track.
There are numerous campings around the track, with camping Le Tertre Rouge being one of the most famous amongst fans. On this camping you see 'normal' cars as you would expect, but also Porsches, Ferrari's, Aston Martins, McLarens and other supercars parked right next to their tent. This gives you an idea of the dedication of the fans, there is no one in his right mind, even if you own a supercar, that would book a hotel when attending the 24 hours of Le Mans. Being part of the camping life is part of the whole Le Mans experience and thus a real must. No matter what your background is. At Le Mans your origin is not important, as long as you are a petrolhead just as the majority of the attendees.
"Le-Mans is the place to let yourself go completely and where you can share your passion with around 200,000 other fans!"
–
My name is Mark Jager and I'm a Le Mans fan since 1999. In that very year, at the invitation of someone who worked at Bleekemolen racing, I once went to Le-Mans to "get away from it all". I was somewhat interested in Motorsport but I seriously thought it would be hard to go there. Anyway, invitation accepted and I headed to France on Thursday night. Once we arrived at the "Bleu-Nord" campsite on Friday around noon, it immediately struck me that, despite the fact that the race had not yet begun, the atmosphere was already quite there! There where plenty of beautiful cars parked at the camping, cozy barbecues , music everywhere… it seemed as if everyone was in the mood much earlier (and faster) than I was. After inquiring it appeared that a whole spectacle had already preceded with technical inspections, tests, qualification and various activities besides the track that I clearly had missed. Naive as I was thought it was unnecessary, after all you come for the race right?

On Friday evening I experienced a "drivers parade" in the center of the very picturesque Le-Mans and then it started to get to me. Suddenly you are no more than a meter away from men who are going to race a car at high speed for 24 hours. I was quite impressed by their achievements after reading the official program.

One driver had my attention right form the beginning; Jan Lammers. I had seen him on TV a number of times and was quite charmed by his sober view of things and his natural appearance.Together with Dutch drivers Peter Kox and Tom Coronel he would drive a Talkline sponsored Lola that was run by Konrad Motorsport. I was a fan of Jan from that time on.

On the Saturday (Race Day) we headed to the track with a folding chair, before dawn, otherwise there would be no more good places to sit according to my mates. And then it happened; The support program started and I saw the cars line-up for the first time, what an impressive sight that was! Almost 50 cars would appear at the start that year and when you see them standing in a long line you suddenly realize how huge the spectacle really is.

The race started and I immediately knew that I was addicted to the 24 Heures Du Mans.

Since 2001, I have been arriving in Le-Mans on the Sunday before the race and choose to sleep in a cheap hotel that night. Get out early and fresh on Monday, have breakfast and then quickly to the campsite at the circuit. After having been at Bleu campsite for years, we have been standing on the inside of the Porsche corner at the Beausejour campsite since 2010, where the course is no more than 200 meters from your tent!

We enjoy technical scrutineering in the center of Le-Mans throughout the week, the open pit lane with signature session on Tuesday, the training sessions and qualifications on Wednesday and Thursday, the shows given in Mulsanne and Arnage on Friday, and the "drivers parade" in downtown Le-Mans in the evening. And then of course, the race itself!

I have now been to the race for the 21st time this year (2019) and have also visited the test weekends during the last 7 years. Once you have tasted the Le-Mans atmosphere as a motorsport enthusiast / petrolhead, you would prefer to go to the event every year.

Over the years I have joined the ACO (Automobile Club 'L Ouest), this gives me the chance to book tickets for camping, grandstand and general admission with a discount in advance. I also receive a nice gift box every year after the race with a poster, program, photo and detailed overviews of teams lap times and details. If you consider that for the same amount as an F1 grandstand ticket, you can enjoy (all-in) one of the world's most iconic races in the world.

Every year we expand our 'camp' a little more, which now results in a little village with party tents, a kitchen island, a large dining table with chairs, lighting and a wonderful atmosphere. Le-Mans is the place to let yourself go completely and where you can share your passion with around 200,000 other fans! Whether you have a different favorite than your neighbor, you are all there with only one goal; enjoy beautiful motor sport for 24 hours long.
What makes this race even more special is that you camp right next to the track. Really next to track. You can hear and see the cars from your tent and it's like only a 1 minute walk to get to good spots where you can see the complete Dunlop corner. Now I don't want to compare the efforts of the drivers, mechanics and people working at Le Mans with the fans, but it is indeed a very tough weekend for the fans as well. Of course they can relax, drink beers and enjoy parties at the camping, but there isn't much sleep. You can even see quite a lot of die hard fans in their sleeping bag right next to the track. In that sense the fans can somehow relate with the exhausted teams performing at the top level. 
That is what makes Le Mans so beautiful. The fans know this and come to the track from all over Europe in massive numbers, to watch the greatest racing show on the planet.
There is no other race in the world where racing is such a team effort than in endurance racing. Take away one link and the whole chain collapses. Everyone has their task and if someone fails, the whole team fails.
"At Le Mans, finishing is more important than winning"
The Le Mans Spirit would be something similar to the Olympic Spirit, with the only difference that not competing, but finishing is more important than winning.
Le Mans 2019 in numbers

61 cars and 183 drivers competed – a record number.
3:17.297 is the new race lap record at Le Mans! It was set by Mike Conway on the fourth lap in the No. 7 Toyota TS050 HYBRID
10.486 is the total number of laps completed
142.900,34 is the total distance covered (in kilometres) or 88.794,15 in miles
916 is how many pit stops were made
18,309 is the total number of passes made, 853 of which were for position
11 is the number of lead changes in LMP1
252,500 is the total number of people that came to watch the WEC Season Finale
353 is the number of days we have to wait until next year's 24 Hours of Le Mans!