The Dutch team MP Motorsport announced their new drivers last few weeks, these drivers will compete in the Spanish Formula 4 Championship. Among the drivers there are two Dutch guys, Dilano van 't Hoff and Rik Koen who we will follow closely!
"It's great news that Gil has joined our Spanish F4 team for 2021"
Sander Dorsman – Team Manager MP Motorsport
Gil Molina joins MP Motorsport for European debut in Spanish F4
Mexican driver Gil Molina will embark on his first European season in single-seaters having signed  to drive for MP Motorsport in the 2021 Spanish F4 championship. The 16-year-old youngster from  Monterrey will be able to build on experience gained in the 2020 US and 2019-20 NACAM F4  championships.
Apart from a successful debut motorsport season in the two American F4 championships, Molina  brings to Europe five consecutive karting titles from his homeland of Mexico, and has already tested  with MP Motorsport. At the Dutch team, Molina will team up with Suleiman Zanfari and Rik Koen,  both of whom were previously announced as Spanish
F4 drivers for 2021, with more announcements  to follow.
"I'm very delighted to be joining MP Motorsport for my first season in single-seaters in Europe", said  Molina. "I believe they can give me the best tools to fight for the championship, which is my main  goal for this year. I'm looking forward to my switch to Europe with MP Motorsport, since they have  won the championship every year but one. I hope I can work well with my teammates, even though  they will be the first ones that I want to beat! I had a very good time with MP both on and off track  and I'm very excited to get this year started."
"It's great news that Gil has joined our Spanish F4 team for 2021", said Sander Dorsman, MP  Motorsport's team manager. "Gil has an extraordinary karting resume and proved to be a winner in  his first year in single-seaters, so we have high expectations of him going into this season. There is no  doubt that Gil will thrive in his first season in Europe, and I'm sure he will enjoy the experience from  the first day to the last."
Molina's karting experience comes from many seasons in Rotax karts, taking titles from 2015 to  2019, including the 2017 and 2018 Mexican Junior championships and the 2019 DD2 title. Molina  also competed in the 2018 Rotax Max Challenge Grand Finals and SKUSA SuperNationals. For his  motor racing debut, Molina decided on a two-pronged attack of the 2020 US F4 and 2019-20 NACAM
F4 championships, taking a win and two podiums in the NACAM series. Despite only taking part in  the second part of the NACAM season, Molina still managed seventh in the championship.
Suleiman Zanfari to race with MP Motorsport in Spanish F4
Promising Moroccan driver Suleiman Zanfari will line up with MP Motorsport in the 2021 Spanish Formula 4 Championship. The 15-year-old youngster is teaming up with the Dutch team for a second attempt at the Spanish series.
Zanfari made his single-seater debut in Spanish F4 last year, in the process claiming several top-ten finishes and a best starting position of third on the grid. Now signing up with the team that took four of the last five Spanish F4 titles, the young Moroccan is hoping to join the winners in this hotly contested junior series.
"To progress, I need to be part of an experienced team capable of fielding several skilled drivers in very competitive cars", said Zanfari. "After a year of discovery, I need to be up against experienced team-mates to be able to move up in the rankings. I am delighted to
have obtained a seat with MP Motorsport for 2021 and I have complete confidence in the team to support my early career in single-seater racing. The fact that this team has also mastered the higher categories such as F3 and F2 is an asset not to be neglected."
"I am happy to welcome Suleiman in our team", said MP Motorsport's team principal Sander Dorsman. "He showed excellent promise racing against us in 2020, and we aim to capitalise on that promise in 2021. I am convinced that he will perform well in the seven-round championship, and we hope to announce Suleiman's team mates soon."
In 2020, Zanfari switched to single-seater racing after a successful karting career that was topped by the title in the 2019 Swedish OK Junior Championship as well as podiums and top-five finishes in both the 2019 FIA Karting World Championship and 2019 WSK Euro Series for OK Junior karts. Zanfari's previous car-racing experience includes a foray into the 2019 Michelin Ginetta Junior Championship.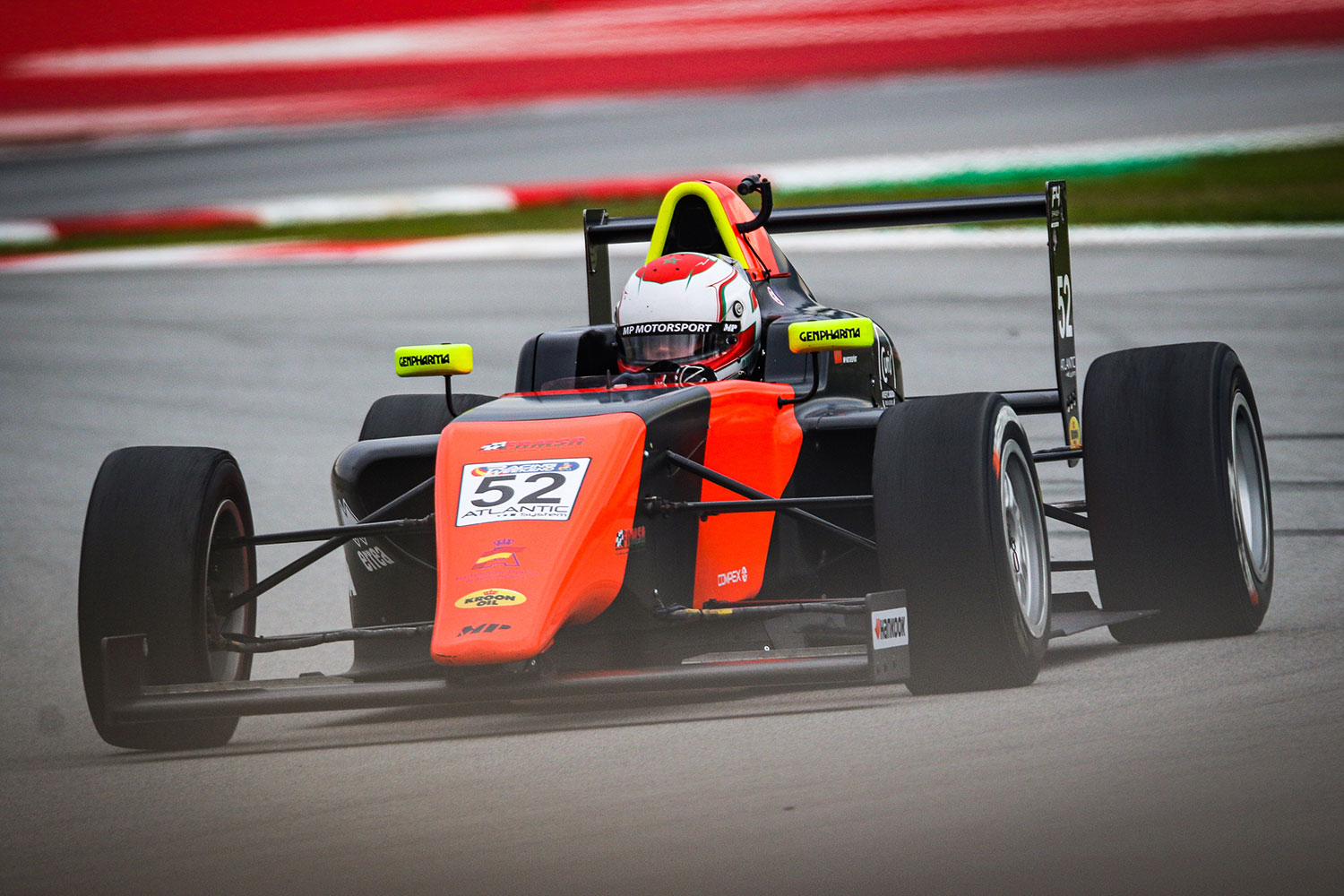 Dilano van 't Hoff to attack Spanish F4 Championship with MP Motorsport
Karting revelation Dilano van 't Hoff is set to attack the 2021 Spanish Formula 4 Championship with MP Motorsport. It will be the first full motorsport season for the 16-year-old Dutch driver, who is currently making waves in the United Arab Emirates F4 winter series.
Van 't Hoff's Spanish F4 prospects look well if his results in the UAE F4 series run over 20 races at Dubai and Abu Dhabi are anything to go by. Just over halfway through the season, Van 't Hoff leads the championship having secured five wins, nine podiums, six pole positions and six fastest laps. He will continue to receive support from the Dutch federation's KNAF Academy. Van 't Hoff's talent and passion for motorsport come from no stranger – he is the son of Alex van 't Hoff, who in 2010 took the Super GT title in the Dutch Supercar Challenge.
"I'm very happy that I get to do my first full year in motorsport with MP Motorsport," says Van 't Hoff. "MP is a leading team in Formula 4 – they know how to build a winning car. So at MP, I would like to continue the winning streak I have started in UAE F4. Four of the five most recent Spanish F4 champions drove for MP, so I have my sights set on becoming the fifth!"
"It's great news that Dilano is joining us for his debut year in single-seaters," said Sander Dorsman, MP Motorsport team manager. "He has been successful in karts for many years and his UAE F4 form bodes well for the coming season. Dilano is already an F4 race winner and maybe even an F4 champion around the time that he will start with us. We have every intention of following up on that in the Spanish championship."
Van 't Hoff made his definitive breakthrough in karts with third places in the 2018 IAME Euro Series and IAME International Final for X30 Junior karts while also making his mark in the various CIK-FIA and WSK OK Junior championships. In 2019, Van 't Hoff promoted to OK karts, with highlights including a win in the Trofeo delle Industrie and a fifth place in the European Championship. At karting's CIK-FIA world level, he added a 14th place in 2020.
Rik Koen switches from touring cars to Spanish F4 with MP Motorsport
Rik Koen, the Dutch youngster who made a name for himself in the Dutch Ford Fiesta Cup, will switch to single-seaters next season. The 16-year-old from Arnhem has signed with MP Motorsport to compete in the Spanish Formula 4 Championship.
Following up on two seasons in the one-make Ford Fiesta Cup, and on the instigation of his experienced driving coach Cor Euser, Koen has now decided to make the switch to single-seaters. His first encounter with MP Motorsport's F4 car came during a satisfying two-day test at the Barcelona circuit, resulting in Koen doing everything in his power to get signed up by the team for 2021. As in his two previous years in the Ford Fiesta Cup, Koen will be supported by the local federation's KNAF Academy.
"It's super cool that everything worked out with the sponsors," says Rik Koen. "Switching from a front-wheel-drive touring car to Formula 4 is a big step up in my career. It's still my dream to one day race at Le Mans, but my coach Cor Euser has identified the single-seater driver in me. This is why I will first aim to achieve the best possible in single-seaters, as I can take that experience with me everywhere I go. The test went really well – the F4-car felt like a big kart, making me feel at home immediately. I am also happy to drive for MP Motorsport, the team that dominated the Spanish championship last year. And as a Dutchman it is always nice to drive for a Dutch team!"
"I warmly welcome Rik in our team", said Sander Dorsman, MP Motorsport's team manager. "His performances in the Ford Fiesta Cup have been impressive, but he has also shown in karts that he has the talent to prove himself in single-seaters. Next season we'll be working hard with Rik in Spain, and the results should follow quickly."
Koen started karting at the age of five and would have liked to have started even earlier had he been taller. He started racing four-stroke karts at seven, switching to Rotax karts the following year. Seasons in the Rotax Micro Max and Mini Max categories including the Dutch Mini Max rookie title, before Koen moved on to the international Rotax scene, the highlight of which came in 2016 when
he held third place shortly before the end during the Rotax Max Challenge Grand Finals for Mini Max karts. This performance caught the KNAF's eye but the support of the Dutch federation could only materialise when Koen started racing in the Ford Fiesta Cup in 2019. In parallel, Koen raced in the DNRT's long-distance races, resulting in several victories in 2019 and 2020.