Daniel Joseph Ricciardo, born in Perth, Australia is a 31-year-old racing driver currently racing in Formula 1. Daniel is the son of an Italian father: Joseph (Joe) and an Australian mother: Grace. He also has a sister named Michelle. His parents owned an Italian restaurant in Duncraig, near Perth, but they closed the restaurant a few years ago.
Some of his earliest memories of motorsport were made at the nearby Barbagallo Raceway. Daniel's mother always took little Dan to watch his father race. Daniel started karting himself at the age of nine, won a scholarship into the Asian Formula BMW championship and won two races in his debut season. In 2007 Daniel switched to a different racing category: Formula Renault and entered the European and Italian championships. In 2008 Daniel stayed at Formula Renault for another season and won the European title.
"If the sparkling wine is cold, then it tastes good. If it's warm then you might get the sweat through"
Daniel Ricciardo – Formula 1 driver
A little flash-forward to 2009. Daniel tested for Red Bull during a young-drivers test at Circuito de Jerez, Spain. Making this his first ever debut behind the wheel of a Formula 1 car. Daniel managed to clock the fastest time of the entire test. Around November 2010 Red Bull Racing confirmed Daniel as a representative for the post-season test at the Yas Marina Circuit in Abu Dhabi. A few days after the test in Abu Dhabi, Daniel was confirmed as a test and reserve driver for Toro Rosso for the 2011 season and he was able to take part in three FP1's of each race weekend.
The 2011 British Grand Prix was Daniel's official Formula 1 debut. He joined HRT that year after a deal was struck with Red Bull Racing, this because he was their test and reserve driver for Scuderia Toro Rosso. He chose to drive with number 3 on his car. In 2012 Daniel joined Toro Rosso full-time up to the 2013 season. This was after they changed their driver line-up and decided to switch to Ferrari powered engines. As of 2014 Daniel got promoted again, this time to Red Bull Racing after Mark Webber announced his retirement in Formula 1.
In 2014, his first year with Red Bull, Daniel drove alongside Sebastian Vettel and Red Bull made the change to a Renault power unit. At the end of the season Daniel finished third in the championship and managed to get his first three Formula 1 wins at the Grand Prix of Canada, Hungary and Belgium. 
Unfortunately, after his debut season at Red Bull Racing, Daniel had two years without a single victory, this becau
se the RB11 was mostly only capable of showing good pace at the slow downforce tracks that have lots of corners, which truly showed the cars very strong chassis but wasn't enough for a race win. At the end of the season Daniel finished eighth in the championship with 92 points. Only three points behind his Russian teammate Daniil Kvyat, while he was able to out-qualify Daniil 14 to 5. 
Fun fact: Some drivers in Formula 1 are known by their nicknames, same goes for Daniel. Since his time at Toro Rosso, Daniel has been known as 'The Honey Badger'. A Honey Badger is an animal that is famous for their strength, brutality and fearlessness. During his early Toro Rosso years, Daniel was praised for his qualifying pace. When he got promoted to Red Bull, his aggression increased with his daring overtakes. A style that was compared to the honey badger, who is known to both attack and defend itself.
The 2016 car that Red Bull had developed was thankfully a much more competitive car. The season started off great finishing 4th at his home race in Australia. At the Spanish Grand Prix, Daniel was joined by the Dutch youngster Max Verstappen who became his new team mate after Red Bull Racing dropped Daniil Kvyat. 
During the Monaco Grand Prix Daniel scored his first pole position. Unfortunately he couldn't bring home a win in Monaco after a very long pit stop that took nearly 40 seconds, the pit crew didn't have his new tyres ready when he came in to stop. In Germany he finished second and that's exactly when and where the iconic 'Shoey' moment was born. This celebration is called a 'Shoey' because instead of drinking the champagne straight from the bottle, like we usually see during the Podium Ceremonies, Daniel poured it into his racing shoe and drank it straight out of his shoe. This is a typical and very popular Australian way of celebrating a victory in several sports. He repeated this very funny kind of celebration with many other races and tried to persuade the interviewers to also drink from his shoe. He 'did shoey's' with people such as Mark Webber, Sir Patrick Stewart and actor Gerard Butler. Daniel once said the following about the Shoey: "If the sparkling wine is cold, then it tastes good. If it's warm then you might get the sweat through it but the cold taste kills the bad stuff… so it's delicious."
During the Malaysian Grand Prix, after starting fourth, Daniel moved up to second into turn one after Sebastian Vettel and Nico Rosberg collided. He took the lead later on in the race after a beautiful fight with his teammate Max Verstappen. When Lewis Hamilton had to retire from the race because of an engine failure, Daniel finally took his first victory during the 2016 season. On the podium, Daniel did the Shoey again and was able to persuade Christian Horner, his teamboss and the other podium finishers Max Verstappen and Nico Rosberg to do a Shoey as well. At the end of the 2016 season, Daniel managed to finish third in the driver's championship for the second year in a row.
In 2017 Daniel did not have a great start of the season, qualifying 10th in his home grand prix in Australia after spinning into the barriers. This resulted in a five-place grid penalty because the gearbox had to be changed due to the amount of damage caused by the crash. 
At Baku Daniel got into a better flow. After qualifying 10th again, Daniel this time won his fifth Grand Prix at the first ever Azerbaijan Grand Prix. He finished on the podium five times in a row between the Spanish and the Austrian Grand Prix. Between Singapore and Japan he finished on the podium three times in a row and maintained his fourth position in the driver's championship. But retirements in three of the last four rounds got him dropping back in fifth in the championship, only 5 points behind Kimi Räikkönen who was driving for Ferrari that year. 
At the end of 2017, Daniel started working with Michael Italiano, his performance coach. Michael and Daniel met when they were kids, as they both grew up in Perth. They kept in touch ever since. It all started with some informal training sessions when Daniel was back home in Perth during the winter break. Daniel eventually sent Michael a message saying he needed a performance coach and asked if he was onboard for a new adventure. Since Daniel Ricciardo can be quite a joker, Michael rationally thought it was a joke. After some discussions Michael agreed to take on this role. Michael is responsible for preparing Daniel to perform at the highest possible level as he is taking on the physical and mental aspects. This is because racing is a very demanding sport , drivers need to be physically fit to take on the G-forces and mentally strong because Formula 1 is by heart a very dangerous sport with no place for fear. Add the crazy travel schedules in the mix and you can imagine a coach can come in handy.
The 2018 season started with a fourth place in Australia, coming from eighth on the grid after a three-place penalty for speeding during a red flag. In Bahrain he scored a DNF after an electrical failure on the second lap. The Chinese Grand Prix was so much better after claiming a victory by almost 9 seconds, starting from P6 on the grid. During the Azerbaijan Grand Prix Daniel was fighting for P4 with teammate Max Verstappen in the last half of the race. It all ended when his front wing made heavy contact with Max's rear, and the incident caused a massive crash where both drivers had to retire. A very dramatic moment for both the team and the drivers since they didn't score any points that race.
Christian Horner and Helmut Marko allowed them to race wheel-to-wheel without  team orders, but it's very painful when you don't leave enough margin for your teammate. You definitely have to show some respect, when it's not for the other driver, then at least for the other 1000 people who have been working on these cars that allow you to battle on track. That's why Red Bull demanded the two drivers to come to the factory to apologise to the staff. 
Arriving at the Monaco Grand Prix, Daniel and Max were considered favourites to win the race because of their great chassis and downforce based car. Daniel ended up first in all three practice sessions before qualifying and he broke the lap record every session. This eventually made Daniel secure his second career pole in Monaco after being at the top of every qualifying session and setting a new lap record once again. During the race, Daniel held-off Sebastian Vettel to take his first Monaco Grand Prix win and his first win coming from pole position. It was a very tense race since Daniel had to manage a loss of power due to a MGU-K power issue during the race. After the race, Daniel went to the floating Red Bull Energy Station based in the Monaco harbour and took a dive into the pool. This led to an iconic moment as this is a tradition that began in 2006 when Red Bull scored its first podium finish. 
In 2018 Daniel managed to score the fastest lap of the race 4 times: in Australia, China, Spain and Hungary and he finished the season being sixth in the driver championship with 170 points. 
After a few amazing moments and the Monaco Grand Prix being a highlight, Daniel unfortunately had to claim 8 retirements in total that season. A very frustrating thing for a racing driver. During one of Daniel's favorite Grand Prix's: the American GP in Austin, Texas in 2018, Daniel had enough of it. After his seventh retirement of that year, the normally smiling Australian couldn't control himself anymore and at some point he was even afraid of himself. Daniel punched his hand into the wall of his motorhome.
Quoting Daniel: "I went back to my room and hit the wall hard. It was cheap material so I flew right through it. I hit a metal piece with my hand. Then I kicked again and my foot ended up in Max's room. Luckily he was still on the track. Afterwards, I got a message that he thanked me for decorating his room." Daniel continued: "My hand began to swell. For about an hour I had a very dark feeling about myself. I thought I'd broken my own hand." Luckily it was not so bad for Daniel and after three days of keeping ice on his hand, he was able to step back in his car for the Mexican Grand Prix.
Daniel Ricciardo eventually left Red Bull Racing after this painful year.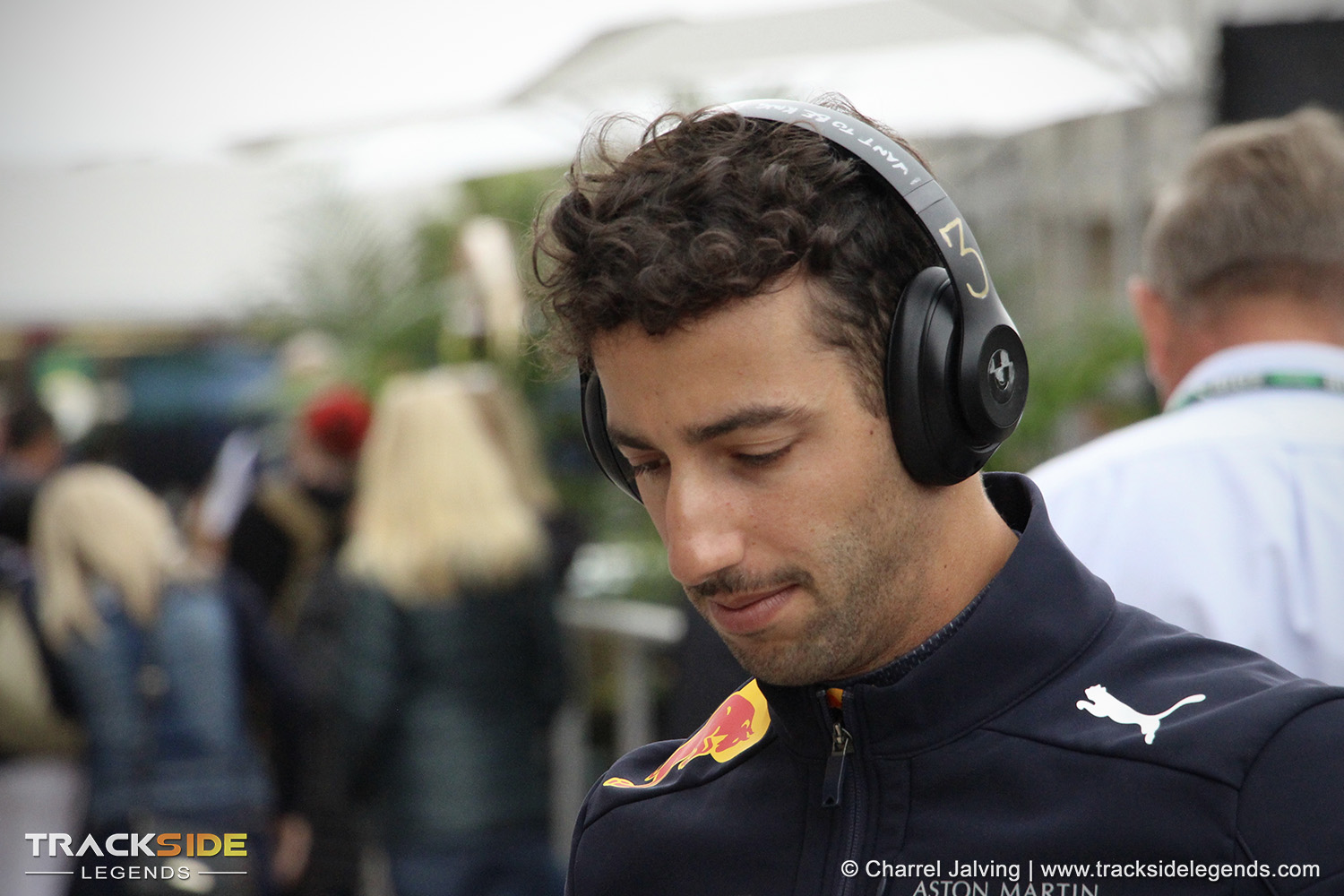 The Australian was defeated by his younger teammate Max Verstappen while many of his defeats were due to the Renault power source. Ironically, Daniel made the move and signed a two-year contract with the F1 team of Renault. Exactly, the team that, being Red Bull Racing's engine supplier, caused him many moments of misery.
In his first season with the Renault F1 Team, Daniel drove alongside Nico Hülkenberg. The Australian had a disappointing start of the season with retirements in the first two races. In Azerbaijan, Daniel reversed into Daniil Kvyat when both cars stopped after a failed overtake by Daniel, causing damage to both cars and forcing Daniel in his third retirement in four races. Six consecutive race finishes followed.
At the Italian Grand Prix, Daniel finished in 4th place, his best result of the year while teammate Nico Hülkenberg finished in 5th, managing Renaults best finish since 2016, when the team returned to compete at the pinnacle of motorsports. The Australian ended a disappointing first season for Renault in 9th place in the championship, with 54 points, ahead of teammate Nico Hülkenberg.
As I write this, the 2020 World Championship, which started in July due to the outbreak of the Coronavirus, is still going on. A year where Renault moved a little more to the top compared to last year, with Daniel scoring strong results in the free practice and qualifying sessions and finishing fourth at Silverstone, Belgium and in Mugello.
After two years at Renault, Daniel will join McLaren for the 2021 Formula 1 season to replace Carlos Sainz Jr. His teammate for 2021 will be Lando Norris who is currently set to be staying with the team until at least 2022. Daniel admitted to press that before signing for McLaren he had talks with Ferrari about taking over Sebastian Vettel's seat, but Ferrari had signed Carlos Sainz Jr. instead.
I'm personally looking forward to seeing what's in store when Daniel will drive with a Mercedes powered car next year in the very strong McLaren. I know for sure he and Lando will make a great team together and will give us many funny moments to enjoy since Lando can be quite a joker too. 
I can definitely say that Daniel Ricciardo, the always smiling Honey Badger, is someone who always strives for perfection in a sport where perfection is one of the keys to success. Unfortunately there have been a few tough days in F1. He is a creative and beautiful person inside and out, but there can definitely be some inner steel behind his smile. Hopefully he will become a Formula 1 World Champion in the future, but only time will tell. Daniel is, with the experience of being on many podiums, a big one in Formula 1, one with a very big smile.
Did You Know?

That Daniel shares his 3 favourite songs every Tuesday in three Instagram Story posts called: Three x 3? And that he releases a 'Dan's Diary' every now and then where he speaks his mind out about different subjects?

He is an ambassador of 'The Inner Ninja Foundation'? A charity that helps and supports people with their mental health and suicide prevention

That Daniel once stood on a podium with his fave Australian metal band Parkway Drive and that he is a big fan of Mumford and Sons?

That Daniel loves to take every possibility to change his helmet designs? He had amazing creations inspired by Texas for several US Grand Prix's. A purple helmet as tribute to the late Kobe Bryant and one with a Honey Badger with a sombrero on it for the Mexican Grand Prix.

Daniel released three of his own limited edition merchandise collections, designed two kinds of socks, co-designed caps and designed swim shorts.

That Daniel is known for his quotes? 'Holy Testicle Tuesday', 'Lick the Stamp and Send it', 'I like them vulnerable', 'I won't apologise'.

That Daniel loves to shake up the official press moments by saying inappropriate words before starting.

That he loves to swear on Dutch TV and during the press conferences he is known for his funny encounters with other drivers that even makes them cry from laughter sometimes?