Article by Duurt Dijkman – Founder at MsportXtra
Racing is done on track, but you don't always know exactly what is going on. In that case there are legends that bring the racing to you through the speakers. Commentators, often unsung heroes. They have to know so much info about all the drivers, their material but also some trivial info about the circuits for example. They are the ones that, through spoken words, create a picture so we all know what is happening during the sessions. One of those commentators is longtime follower and friend of MsportXtra, his name, Alex Goldschmidt. After a long season of commentating on karts, I reached out for a Q&A and Alex was happy to answer a few questions.
"After a long season of commenting on Karts, Alex was happy to answer a few questions"
Q1. Tell us a bit about yourself, your background and how you got into commentating.
Alex – I'm Anglo-German, holding two different passports, and started my involvement within motorsport as a fan, back with Senna and Prost were giving no quarter when they were at McLaren-Honda in 1988. The first race I saw was the Monaco GP when Senna was clearly on another level, even though he put it in the barriers before the iconic tunnel, but he was the one that really ignited the spark in my soul about racing. Flat out, no fear and just action-packed all the way.
Along with my work as a commentator, I've been in the auto industry for over 20 years, so you could say I'm a busy man, but I got involved in an official capacity back in 2011, writing about MotoGP and WRC for "PopFodder," a pop culture website. It grew from there, as I joined The Checkered Flag to cover DTM from June 2012 until the end of the 2014 season, before moving on to TouringCars.net the following season, where I was for almost four seasons.
Commentary was not really on my radar until I met Jake Sanson (Downforce Radio founder) at the Autosport Show in early 2015, introduced myself, and found someone who was as passionate as myself about racing, and not just what I already had an interest in. From there, I did some work here and there, just to find out what the likes of Murray Walker, John Hindhaugh, David Croft, David Addison, Toby Moody and many other well-known and respected commentators have to do. And then I was hooked.
2017 saw things ramp up significantly, where I commentated on the British Rental Kart Championship, which has Dutch ace Ruben Boutens being a six-time champion, Daytona DMAX and prokart and IKR racing at Rye House. Regarding the latter parts I have to give a very special shout out to Chris McCarthy, who has also been a good friend and helped me to make the proper transition from writer to commentator. Since 2018, I've been travelling out to Europe, being the current commentator for the Rotax Max Euro Trophy and the BNL Karting Series (since October 2018), which I'll be doing again this season, along with Rotax Max Challenge Germany.
Q2. How much time do you need to prepare for a race, as you also need to know all kinds of additional info?
Alex – When it comes to a race weekend, I'm normally starting around three weeks before the first day I'm commentating, looking at previous events and the competitor lists, so I can make notes and refer to them during the livestream. Along with that, if it is a track that I've commentated at before, it's always a help to refresh my memory of where the opportunities and pitfalls are, such as areas to be careful in, spots that are prime for overtakes. That's why YouTube is such a good reference source. But in the case where I haven't, I'll also ask those that I know that might have commentated there before for their insights, which I note down.
Track maps and entry lists always get printed off, along with sporting and technical regulations, so that I'm up to speed on what happens under certain situations. And it also helps to start practicing surnames to do your best with getting them right, rather than attempting it and getting it wrong, especially when I'm commentating overseas.
"I'm both humbled and proud that so many of them compliment me on my work regularly"
Q3. Having a quite invisible job, unless a camera is pointed at you, do you think commentators deserve more recognition?
Alex – In many respects, we are the ones that are helping to tell the story and give a good insight as to what is happening, so we should be further recognized in general. However, for me, the recognition I get from the paddocks that I am a part of in karting is more than enough. I'm both humbled and proud that so many of them compliment me on my work regularly and it means a lot to me personally. It means I'm doing my job well.
Q4. This might be a tricky one but in your opinion, what makes a great commentator and how do you approach your job?
Alex – We, as commentators, are story tellers, so we have to be up to speed as to what is going on, both on and off track. A great commentator should be able to do three things: inform, educate and excite the general public. Along with that, there needs to also be the right cadence/delivery, in how your voice conveys the telling of the tale. If you can get tone, cadence and volume correct, it works in many ways. I make sure I'm at the best level I can be. All the notes and information I need are prepared well in advance, along with hydrating on a consistent basis to keep my voice at its optimum, anywhere from two litres of water a day, which unfortunately has an unwanted side effects (Need I say more?!).
Q5. You commentate on a lot of karting races but is that any different from commentating on other series? If so, what is the difference?
Alex – The schedule of a karting race weekend is significantly different. When qualifying gets underway on the Saturday morning, It's basically non-stop apart from the lunch break until late afternoon/early evening, depending on how many classes and entrants are competing. Just like any other timetable, nothing is ever guaranteed on whether it may all run to time. It can be the case where races are delayed, but by how long depends on what has happened in the previous session, but thanks to the great marshalling teams and the way the organisers work, they are able to keep this ship running smoothly.
Q6. From your point of view as a commentator, are there things that can be changed to make your job a bit easier? Or are you happy with how everything is arranged for you guys?
Alex – Mainly, as a lot of my work is on livestream, the crews make it easier for me to commentate and we always go through the procedure of doing all the relevant checks on the day before I start my work on the Saturday. But the constriction of having to work with handheld and not headset microphones, can make things difficult, especially with one championship being broadcasted via three microphones – one for the stream, one for the audio broadcast and then there is the circuit.
Q7. You often work in a team with a few others. Some say, never change a winning team but is it harder to switch with colleagues or do you guys stay as a fixed team together all year long?
Alex – The majority of the team stays the same, but with any outfit, some come on board and some leave. We are pretty much fixed as a team all season long, and we have a good understanding of how the others work. With some of my work, it's only one-off events, so it can be a case of getting to work with the team that are there and do my very best.
"I may get a chance to relax for about 15 minutes during the lunch break, but that is about it."
Q8. What does a raceday look like for you? I mean, between races, can you go mingle with the fans or drivers, or do you stay in the commentator booth to prepare for the next race?
Alex – The race day is a busy one, and in my case, it's race days 😉 I'm up at 6.30am to get ready, head to breakfast at around 7-7.15am, and then be at the track for 8am. I then will start commentary for qualifying, so it gives me about 90 minutes to do a paddock walk around, catch up with drivers and teams to get a feel for the atmosphere.
I may get a chance to relax for about 15 minutes during the lunch break, but that is about it. I do catch up with the paddock and the families that are at the tracks in the evening after dinner, because by doing so, it's something that I enjoy, as I am a people person. Then it's time to chill out on the Saturday night with the team, and then a good night's rest.
The Sunday is even more frantic, as it's the same schedule, but a bit more stretched out over the final races of the weekend, followed by the weekend podium, which I present. Then it's a case of saying goodbye to as many people as I can, before hoping back in the hire car and driving back to the airport to fly home on the Sunday evening.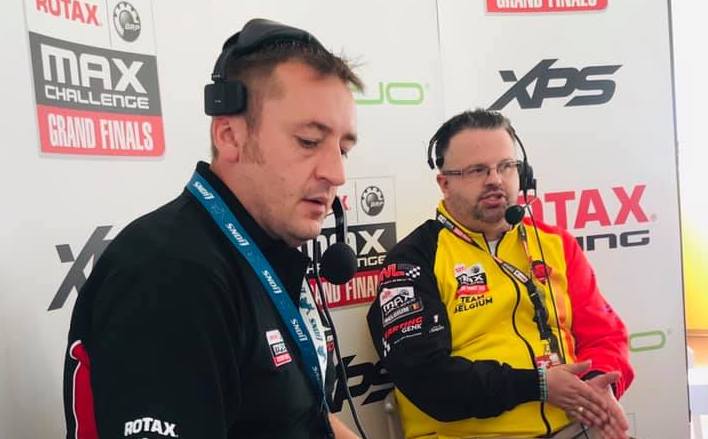 Q9. Rubbing is racing and especially in karts, accidents happen. How do you cope with that and how do you commentate on that, knowing the emotions that must run high?
Alex – I always have a glass half-full mentality regarding this, as the contact between drivers can range from very slight, to very hefty, which may also involve a red flag stoppage. When it comes to putting an opinion live out on air, I give a vague thought about it, but then say something along the lines of the following: "But I'll leave that one to the stewards, as it is their decision whatever happens next." If a red flag period happens, I state that it has happened, and then will go silent, but will give regular updates, as and when I get the information. We always keep the cameras away from filming where the accident has happened, out of respect of the driver(s) and the families.
"I always have a glass half-full mentality regarding contact in the races"
Q10. Final question. When people read this and want to be a commentator as well, what is the way to go to become a commentator?
Alex – Don't aspire to be the next Murray Walker, Ben Edwards or John Hindhaugh. Be the very best you can be, but you'll need to put the hard work in. Follow your own path on what you want to do and look to get in touch with the relevant parties that may help you open that door to the next step closer to your dream. Above all, there are two important final points – be in the right place at the right time, and make that first impression last, in the right way.
Q11. I throw in an "extra" question and would like to know if there is anything else you want people to know about you or your job?
Alex – I've been a passenger in one hell of a BMW Taxi-Legends ride back in 2016 – I was shotgun with them works driver Dirk Werner in the 2011 BMW M3 GT2 that raced at Le Mans, as we went for a blast around the Lausitzring on cold tyres. That's something I'll never forget, especially when I told him to just go flat out.
I want to thank Alex for his time to answer these questions and a special thanks to Noelle Cormier Ehlers, Chip Pictures c/o Ivo Grämiger, cz-fotomanufaktur.de and Scott Campbell for providing the pictures. In 2020, you can hear Alex at circuits in England and Germany as he will bring the action to you through the speakers. Please follow Alex on Twitter via @AGoldschmidt77 or just go to a few races where he works and listen to his passion.