Article by Duurt Dijkman – Founder at MsportXtra
In this day in the era of social media, info is quick to find but you can't always find the whole story, so you are left to guess what happened. In that case, the old fashioned journalists are there to bring us the whole story as they spend very long hours, chasing the news and bring us the in-depth version of the action as it unfolds. One of those journalists is Darshan Chokhani. He's a very good freelance writer and his work can be enjoyed on a daily basis as he writes for Formula Rapida. ( https://formularapida.net/home/ ) It so happens, Darshan was attending the Abu Dhabi Grand Prix and as a friend and partner of my MsportXtra network, I was able to steal some of his valuable time to do a quick Q&A about his journey and life as a motorsports journalist.
"Info is quick to find, but you can't always find the whole story"
Q1. First of all, to most, being a journalist seems to be the best job in the world as you get to interview drivers and team members and are very close-up to the fast world we all love, but how does your average day look like during a Grand Prix weekend?
Darshan – It is hectic, for sure. You have to be nice and early at the track to give yourself plenty of time to adjust and get through the day's schedule plus also fit in your eating schedule. Usually, Thursday is the busiest as we all know, that's the media day. It gets less busy as the weekend progresses but then post qualifying and race, it is mayhem again as you have to rush to collect as much audios as possible and speak with as many drivers. As a single person, it becomes a tight job and so, the help from fellow journalists is much needed. It is a competitive environment but it is a family as well and we do help each other as much as we can. All in all, it depends on your work but you do end up spending 10 hours at least at a track on every given day from Thursday until Sunday but the good part is that time passes by and you don't even realise.
Q2. What are the upsides and downsides of being a motorsport journalist?
Darshan – This is a tricky one. Upside is that you get to attend events and be close to the action. You get to interact and see their minds and be the link between idols and the viewers. The downsides would be that you don't get to watch everything from a fan's point of view which you miss sometimes. You are away from family as well and work takes centerstage, even though you try to balance.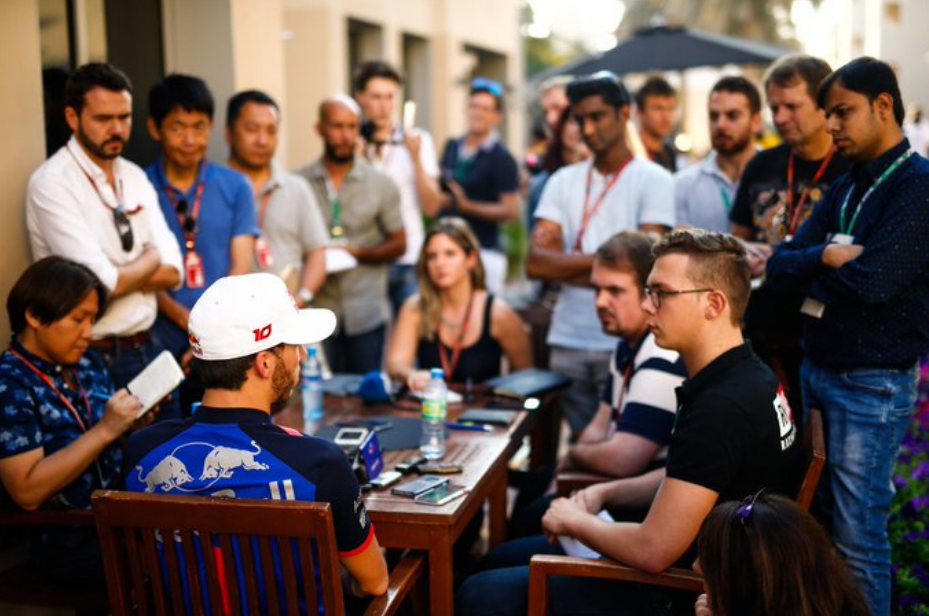 Q3. You have been to a number of Grand Prix as a journalist. Is it a world of friendships or is it every journalist for him or herself? And how do you cope with that?
Darshan – It is a bit of both, to be honest. You make lifelong friends and at the same time, you have some, whom you see every weekend and yet you don't converse as much, not even a hello. I have had good experiences so far and no major fallouts but only time will tell how it is in the future. In terms of coping, I think, at the end of the day, it is everyone for himself as you are trying to earn your living, so the mindset needs to be strong to handle loneliness, if any.
Q4. You are always able to get the latest stories in a very fast time. Having connections helps a lot but how much time does it take to maintain such connections ?
Darshan – This is a crucial part which gets forgotten very easily. You connect with a driver and or a team and or its press person but it is not a guarantee that they will remember you always unless you show up at all events and attend all of their meets, so it becomes important to make a long-lasting impression and that you are in touch with them, even outside work, in terms of general life. It takes a lot of efforts because they meet so many people in their daily life and so for them to remember, you have to be very focused and determined.
Q5. As someone who uses social media a lot, I know how fast news can be found and shared but does social media have a positive or negative effect on your work?
Darshan –I have to say, it is negative, especially for websites as whatever you wish to write, it is already out there and even copied by other websites who are not even there in the paddock. It is not all negative sure but the positive aspect does get overshadowed by the negative.
Q6. To inspire journalists, who want to work in motorsport, are there any tips you are able to give them?
Darshan – I am still in that stage as well but the things I have learnt, one of the most important thing is to be humble. It will work wonders and people will remember you longer which is much needed in the business. Determination and perseverance are key factors too, you have to keep at it, even if it costs you some of your social time, especially at the start of your career as sacrifices leads to success – at least in my case it has worked that way.  Also, do not try to act over-smart and cut the line in the business, take it one step at a time.
Q7. On a more personal note, as a journalist, what is your most precious moment in your career so far?
Darshan – Considering that I have interviewed multiple personalities within the paddock and that I am still finding my feet, I'll say, the first grand prix as a media person remains itched to my heart. I have been into the paddock as a fan but as a media, it is a different feeling all-together and there is a sense of pride and achievement in itself.
"European races and Japan are still on my bucketlist"
Q8. What are your goals for the future?
Darshan – The dream is always big. I wish to cover all races one day and get that feeling of tiredness, whether mental or physical.
Q9. If you had the resources to go to any Grand Prix, which one would it be?
Darshan – I cannot name one as there are many which sadly I haven't been able to. I think, the European races will be first in line and outside that, I think Japan will be the one to be in the bucket list.
Q10. Last question. If you had the chance, which driver, current or former, dead or alive, would you like to interview and why?
Darshan – Again a difficult question. I'll try and answer still. I wouldn't go far back in time and be more relevant, since I have seen Michael Schumacher in person and also speak to media, the one I haven't been able to is Ayrton Senna. So, I think, he will be the one, whom I would like to speak to, especially since he seems like a no-nonsense person and it will be a challenge to perhaps get answers from him.
Big thanks to Darshan for taking a bit of "extra" time out of his busy day to answer this quick Q&A. If you want to keep up with Darshan, you can follow him on Twitter at
@DarshanChokhani
or just go to his Facebook page ( 
https://www.facebook.com/darshan.chokhani
 ). After the season, Darshan is keeping a sharp eye on all the latest developments in motorsports so is really worth a follow.