Article by Duurt Dijkman – Founder at MsportXtra  | Photos by Mark Sutton – Photographer & founder of Sutton Images
In these days of social media, pictures and footage are easy to come by as most fans around the circuit have internet on their phones and will upload the events on their social media channels before you can as an official photographer. This wasn't always the case and back in the days we would rely on those that were trackside, trying to give us the best idea of what was going on through pictures taken from the action, preferably from many different angles and parts of the circuit. Those pictures were taken by photographers that knew like no other how to capture the moments. Photographers are still enormously important in bringing the sport to the fans. True Trackside Legends if you ask me. One of them is the well known and respected photographer Mark Sutton. It so happens, he's also a friend of MsportXtra so what better way to ask Mark if he's up for a little Q&A.
"That year in 1983 I went to my first race shooting with my dad's Practika camera"
Q1. You've been doing Formula 1 photography for many years now but what was it that made you pick up a camera and start in this line of work?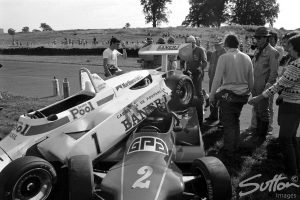 Mark
– My dad was a huge motorsport fan and amateur photographer, so he took me to the races as a small boy and we visited our local track Oulton Park many times and he would pose me next to racing cars and drivers at this famous circuit near Manchester. I first picked up a camera at college in 1983, which I went to after school and learnt about lighting and the basics of a camera and how to shoot more still life with lights. And back then I also worked at a camera shop in Stockport on Saturdays, selling the latest new cameras and film. I also learnt how to talk and deal with people which really helped me and the college course also offered to work in a laboratory where they processed films and printed images from professionals. I got the chance then to work in a studio in Manchester called Kilham & Cartright, it worked on the KAYS catalogue which produced images of their latest products from bathrooms sets and room sets
with full lighting, again I learnt so much and they offered me a full-time job as an assistant. That year in 1983 I went to my first race shooting with my dad's Practika camera and few lenses at Oulton Park shooting the Formula 3 race which was a big battle between Ayrton Senna and Martin Brundle and I was in the right place and took the photo of them side-by-side. Senna crashed on top and Brundle was lucky, but these photos were used all over the world and still till this day! What a start and later on I covered the Senna test of the Toleman and McLaren both at Silverstone and I could feel a passion starting. In 1984 I worked in the studio and did one F1 GP at Brands Hatch and that was my first Grand Prix ever.
"Monaco is a very special place and my favorite of the year"
Q2. From a photographer point of view, do you have a favourite circuit where you can get the best access to take pictures?
Mark – Monaco is my favourite as it's a very famous and historical circuit and also not really much has changed since those early days. Only safety barriers and fences where added, but there are still some amazing places to shoot at and you can litteraly touch the car while they drive past at crazy speeds, its just amazing. Of course Monaco also brings the glamour and parties, in the evenings you can walk the whole circuit where those F1 drivers just raced. So its a very special place and my favourite of the year, I just always hope the weather is good and sunny.
Q3. F1 is one big circus and for those within it, all things are pretty much taken care of. But for the media, including yourself, things are often a bit different. How do you arrange your own accommodations for the weekend and do you have any tips for best spots?
Mark
– Yes, of course
Sutton Images
is now part of the
Motorsport Network group
, so they have people who can arrange travel like flights, hotels and hires and this really helps in many ways. But I do like to pick flights and hotels as I have my favourites that I visit every year and they are special places offering lots of home comforts. I like to be close to the circuit or the cities. I am very lucky and I know many people want my job as they see the glamour of the job, but its not that easy and actually I work really hard and crazy hours every weekend. Most days are between 12-14 hours, just like the mechanics and then after work I look for dinner and relax before the next day I have to get up early. The only time we get to enjoy the cities or areas around the circuit is when the races are back-to back and even then I'm working on editing or now pushing images onto my social media channels (
@F1SUTTON
) which now has a great following around the world.
Q4. I know you have a lovely family but being a photographer that travels along with F1, it must be hard sometimes. How do you combine your personal life with the professional life ?
Mark– Yes, as my children are now 21 & 24, I try to bring my wife to more races and enjoy the countries and travels. My son James was actually born when I was in Australia in 1998 on the Friday and I only met him back in the UK when he was 5 days old. So you can see my commitment to the sport and now after 516 races I still love what I do and my family understands that commitment. This profession is not for everyone and I have seen many young people get sick of the travel and to be honest they don't have the real passion and just see the money. But you need a bit more than money and I hope you see that through my images, I'm always pushing the boundaries of photography and creating new angles and images to showcase my PASSION!
Q5.  If I'm correct, you've been doing this for 36 years and must have met a lot of different people. Being that close to drivers and other team members, did any friendships come out of your work? And what does such a friendship mean, even though we all know they also get out of bed, one leg at the time.
Mark
– Yes 1983 onwards, but I became professional in 1985 and then my break came in 1992. After six years of National racing and some International events I got a big break into F1, it was those earlier years that really helped me meet many amazing drivers who then came to F1. Herbert, Hill, Coulthard, Häkkinen, Franchitti, McNish they all started the same time and we grew up together, some of them are now presenters and commentators in F1, so I talk more to them now than then as they are more relaxed now. I keep in touch with most drivers, but I wouldn't call them close friends as we all work together. They do appreciate great images and I think this is where the relationships works. Social Media has allowed images to be seen quicker and most drivers are on Instagram or twitter posting still images or videos. I prefer to stay independent at the moment and not work with one driver, so I take images of them all and post images that make me happy and funny sometimes, which I think gives the fans an inside story of the paddock/pits/track through my images.
Q6. You've travelled the world and seen some of the most iconic racing tracks. Which racing track do you love the most, as a person, not as a photographer? And why?
Mark – I loved Indianapolis in the US as I love the history and banking and also I covered Le Mans 1985-1993 when sports cars where at its best I think, Jaguar/Porsche/Mercedes/Mazda etc… these were the golden years with the old pits and classic old track with no chicanes, it was so much easier to cover with less restrictions and once you knew your spots they were easy to locate every year.
Q7.  For your work, you take pictures of beautiful shiny cars, awesome settings and you capture the action while it happens. That said, you also face the downside of the sport and must have taken lots of photos from accidents and other awful situations. What was the worst one and what does that do to you as a person?
Mark
– Yes, I have been there in Imola 1994 with all the tragic events. It was my darkest weekend ever on my life except my mum and dad passing away of course, I still remember everything clearly. I was at Tosa corner during the start and safety car laps and then the sudden quiet atmosphere of the Tifosi who had seen the crash from the hill, I didn't really know what had happened and should I move or not, I decided to stay and then the helicopter landed and I thought its bad and as it flew away the Tisofi clapped for minutes until it disappeared into the distance, it was eerie and of course later we found out the tragic news and like most people, I couldn't believe it. I remember his life now through my images and I feel so lucky to have been there at some magical moments in his career from F3 – F1 and those famous victories.
"I started with black & white film, processing in a tank with chemicals and then printing in a tray watching the images appear"
Q8. As a trackside legend, people look up to you as being one of the pioneers in the sport we all love. Do you get many questions from newly photographers about what to do in certain situations or do you mentor others that want to learn the trade?
Mark – Yes I am always being asked 'how can I be an F1 photographer' and I say well I did 6 years apprenticeship and they don't want to do that, they want it now. But I still suggest the same route personally, you do need the experience in my opinion. The F1 cars go at 200mph and to freeze cars at that speed you need experience no matter what other people say and also work on building your name and career. I started with black & white film, processing in a tank with chemicals and then printing in a tray watching the images appear in front of me, it gave me a huge buzz. Then I moved to colour and processing/duping and sending the photos all over the world, Sutton Images became the biggest agency in F1. Now it's digital since about 2002 and I got my first camera at £10,000 which was crazy money, but I needed to stay ahead of the others and then I was the first to transmit images from the circuit directly from the camera in Bahrain 2014. Nowadays we send all images via 4G and with 5G coming things are going to change even more and I'm looking forward to the next step of technology #bringiton
I'm thinking of creating a book to assist the new photographers and explain the differences and changes of the sport and showcase my images to the wider audience, so hopefully this will happen soon.
Q9. With the uprise of social media, does that make your job harder? Or do you also use it to your advantage in finding out where to go for those important shots?
Mark – I think actually it has made everything easier as images are posted much quicker to the wider audience and news through images is more important than ever, as I saw a decline in our services in the early 2000's, but now Social Media has offered free advertising for my images and promoting my name even further around the world. But I think people still love the history, so its a mix or my older images and my current one's mixed and my life as an photographer travelling the world, I think people really enjoy the behind the scenes images as I take them where the TV doesn't go as most cameras are static. One amazing photo was the Spa crash of Kimi Raikkonen this year at the start, I went to look at the house on Saturday to see if there was new angle or good place for the start and met the owner who invited me to his balcony and I decided yes lets do the start there. I did the grid and walked down the track and then round the corner, people were wondering where I was going! So I got my position on the balcony, but there was a tree right in the way, so I looked for some height, found two pallets and that was perfect to get higher, I saw the cars come into turn one quite late but kept my fingers on the trigger as always and didn't really see anything happen until I went through the frames on my camera and saw that Kimi was on two wheels in the air, I transmitted them Immediately and they were online in 30 seconds. I submitted one to F1racing magazine and you can see my story and that image in the double spreads this month. So yes its all about new angles and also the stories and why I took them ok.
Q10. On a personal note. What has been your best photo?
Mark – My best photo – The Flying Finn, Adelaide 1993 – Mika Häkkinen
I headed out to Fishermans bend to make the photo behind the concrete wall and the shot is two different types basically a head-on on the curb and also a pan-shot against the fence, this was not an easy location to shoot, there was about 10 photographers shooting from that position. I was using a 300mm fixed lens more for the pan-shot then I heard a screech of the brakes, like a log-up, I looked up with my camera as I was panning through and then saw Mika Häkkinen in his Mclaren coming toward me and he launched over the curbs in the air, I just kept my finger on the button as he flew through the air and then landed back on the ground and carried on back to the pits. I then looked around to my compatriots and asked them did you get that? And no one replied, I just heard no and someone said I think I got the end of it and one
said I was shooting a slow-shutter speed. I kept quiet and said nothing at this point and wasn't really sure what I had got, this was the film era and no one as that confident with artistic imagery or shooting at slow speeds, this was my second year in F1 and I didn't want to shout about anything till I got the frame in my hand and then I could shout out loud!
All the films went in for processing over night at a lab in Adelaide nearby and then we waited in the morning for everything to come back and got on the light box and go through all the images from the day before, my brother Keith looked at them film by film and then shouted 'Wow that is just bloody amazing, he's six feet off the ground and its pin sharp' I looked over the light box through the eye glass and wow it was just amazing to see this frame of Mika flying through the air, five/six/ten feet it didn't matter, it was just an amazing image and shot at 1/125th of a second shutter speed, which normally you would never get sharp, but this was pin sharp. We asked immediately to get 3 bog prints made 20×16 inches and also X50 duplicates from the original, this was one of the photos of the year and I knew it could sell everywhere as one of the most spectacular images ever taken. The prints came back and I went to Mika to present one to him as a gift and get mine signed and one for the Lab who printed them so quickly, he said wow that's not real and I said yes it is and the one of the McLaren engineers came over and said Mika ' that's why there was blip on the telemetry' and Mika signed it 'The flying Finn' and then that name stuck as Mika's famous name from my image take in Adelaide in 1993.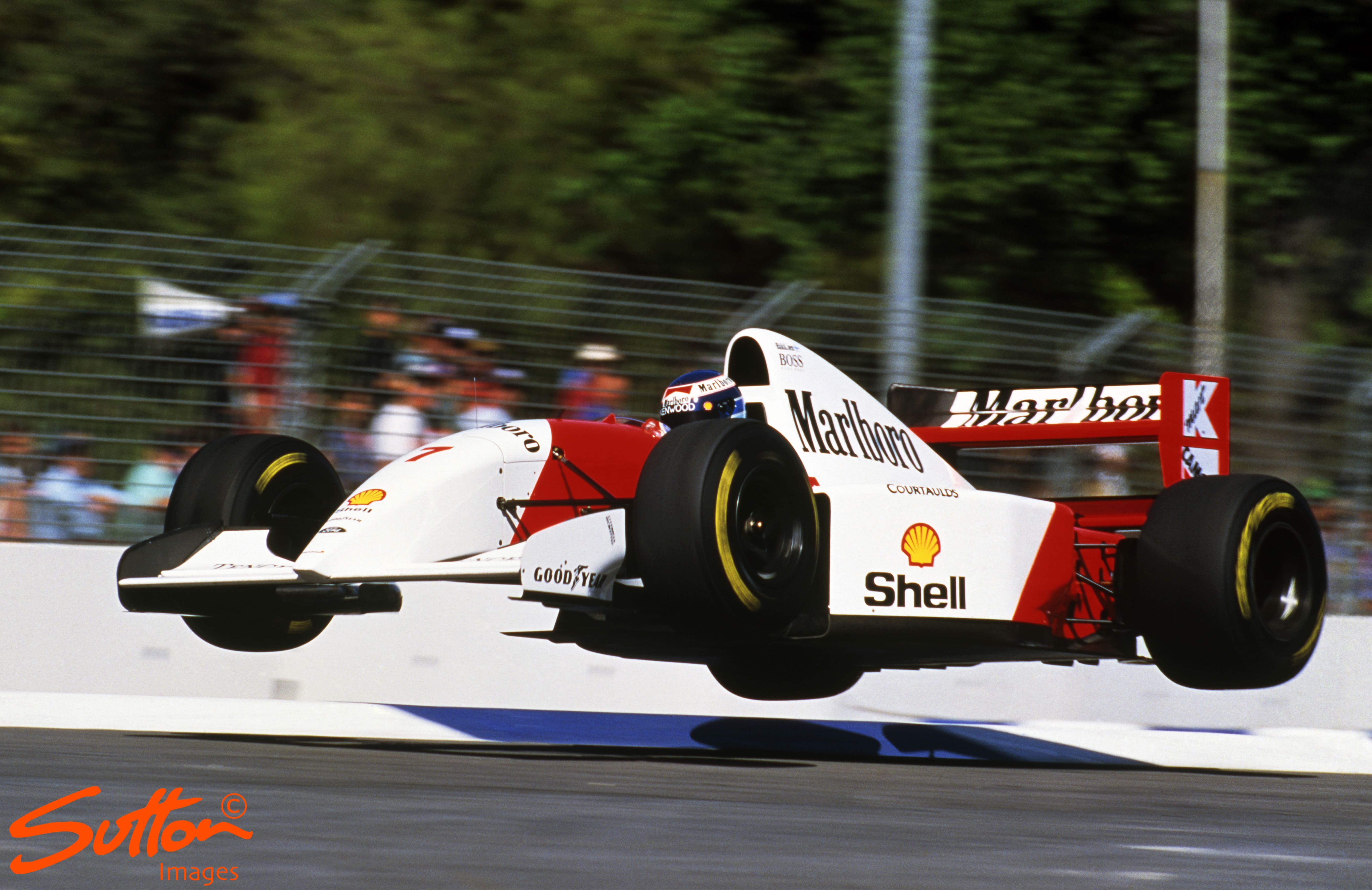 Q11. Final question. As a professional photographer, working in F1, is there anything you like to get off your chest? Changes that make your life easier? Certain safety aspects towards photographers? Tips for aspiring new motorsport photographers? Or anything unrelated to motorsport.
Mark – Its all about hard work as I said before, it looks the glamour job but its crazy hours and after 28 years in F1 its also about new circuits and countries. I love the fact we are going to Holland and Vietnam next year, this inspires me even more to continue and look for new angles. I worked on the Abu Dhabi circuit track building project 2007-2009 and this was just an amazing project to work on from desert Island to now one of the best circuits and facilities in the world, I love going back there every year knowing that I helped record the history and also I love the weather and people in Abu Dhabi, the welcome is amazing and will enjoy some days before the race relaxing and then the test and my last summer days before the season finishes. It's a great place to end a crazy and busy season, but I still have a huge PASSION.
I would like to thank Mark, not only for his work as a photographer, but also for being kind enough to take the time to do this Q&A. At the end of the day, we are all fans of the sport, are passionate about what we do and want to share that passion.
" Its all about hard work and PASSION"