Article by Duurt Dijkman – Founder at MsportXtra
There are many people behind the scenes that make sure that we can enjoy some great racing. One of them is Raz Al-Haddad. Raz and I are following each other for many years on social media and I thought it was time to have a chat with him about his work as a scrutineer so I've asked him 10 questions and he was kind enough to answer them.
"You've got to be a bit of a nerd"
Q1. To drop in, what's life like as a scrutineer?
Raz – Life as a scrutineer varies depending on the series as I don't just do F1.
Q2. As a scrutineer, you get upclose and personal with different teams and their mechanics. What are a few things that make scrutineer the best job to do during a F1 weekend ?
Raz – Best thing is coming in on the first day of the event, getting to know your surroundings, as well as who you'll be working with. Both from the racing team, as well as your own team of scrutineers.
Q3.  Being a scrutineer, is that a volunteer job? And if so, how do you combine it with "normal life"?
Raz – Yes, it's a volunteer position, combining it with normal life means usually taking off a Thursday and Friday, and possibly a Monday depending on where the event is. The fly away ones require a whole week off.
Q4. Without mentioning what exactly, have you ever found something that wasn't according the rules and what happens when you do find something?
Raz – Personally no, I haven't found anything, but somethings do look "suspicious", usual procedure is to raise it with the team and ask for clarification, then refer it to the chief scrutineer, who refers it to the FIA/SRO
Q5. As part of a fia appointed crew, do you work and play as a team throughout the weekend? I mean, are you all in the same hotel? Are the accommodations handled for all or do you have to arrange everything yourself?
Raz – We don't "hang out" with the team outside the track, we have our own accommodations that are handled by the organisers.
Q6. Do you need to study to become a scrutineer? I can imagine you have to have a basic technical understanding of the cars you scrutinize.
Raz – Yes, you've got to be a bit of a nerd to know, but mainly it's about making sure the teams are compliant in accordance to both the technical/sporting regulations. We usually receive a copy a week before as a bit of homework and have the particular session notes to hand during the session. Also we have a morning briefing with the FIA on each of the days, telling us what we should be focusing on.
Q7. Having been on different tracks, is there any difference per track regarding your work as a scrutineer? Workspace, people or otherwise.
Raz – The actual job itself is the same, regardless of the track, the main differences are the people you work with. Sometimes it's difficult with language barriers, as well as sudden changes to the schedule for the day/event. Being in the F1 team garages, depending on the team it can vary as to the sizes.
"We have a morning briefing with the FIA, telling us what to focus on"
Q8. When your initial work is done and the race is on, what do you do? Are you able or allowed to go wherever you want? Pit lane, paddock, garages….
Raz – If you're with an F1 team you stay with them in the garage during the race. If you're doing F2, you can basically mope around, only place that's off limits are the team hospitality suites as well as paddock club areas, but generally we've got free range.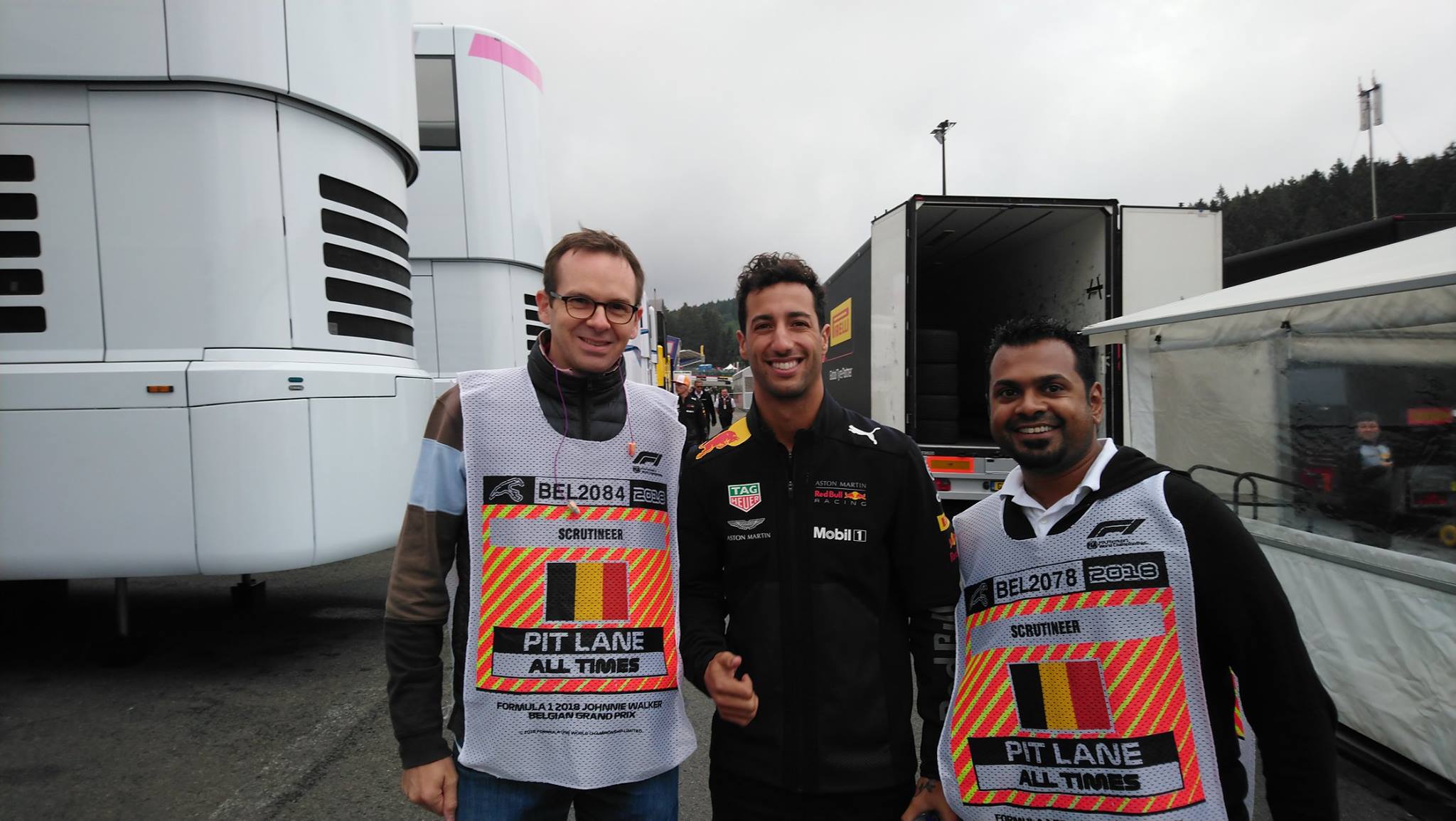 Q9. As a scrutineer, you might think teams don't always like you. But have you also made friendships with team staff, because some might think you can't build friendships as it can be seen as becoming biased towards certain teams?
Raz – Not really, I've got a few friends here and there, I personally keep it professional. Sure, you'll have a laugh and all, a bit of banter but I've not yet had to do anything that can be seen as bias.
Q10. Final question. If anyone wants to become a scrutineer, where do they need to go to apply for it?
Raz – Apply with their local ASN as a volunteer, they'll be given training, which they'll have to attend. You'll start off on the national smaller events until you've got enough competence to qualify for a full license, then you'll be able to go to the big international events like Formula 1.
Thanks so much Raz for giving us an inside view of what it means to be a scrutineer. Just like all the rest of us, Raz is also a passionate fan of F1, so if you want to follow him, just go to
www.twitter.com/raztaf1
 and say hi. At the end of the day, we are all fans of the sport and are passionate about what we do to share that passion.